Tuesday 3 September 2013
Custom Firmware: RM- 807 Nokia 808 The One Reloaded v4.2.0
Nokia 808 RM-807 The One Reloaded v4.2.0 (19.07.2013)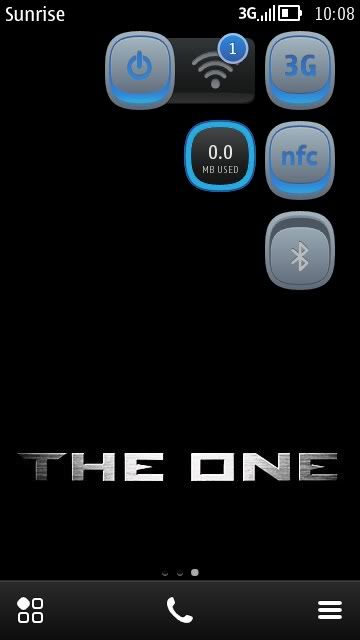 This is my Custom Firmware for the Nokia 808 Pureview!

You will find all informations about Mods and the base version I used in the Changelog.
I was aiming for a slim and fast version, without loosing the look & touch of the original firmware.

Release Notes
The One Reloaded v4.2.0 is based on Belle FP2 v113.010. 1508.
It comes with ~655MB free space on C:\ and ~300MB free Ram at startup.

If you want even more space (up to ~700MB for English only), you can follow this Tutorial:
Partition Manager: C Drive Extension

There is a long list of modifications and changes... for details please take a look at the full changelog.

How to Flash
You can find a full tutorial about "How to flash your Phone" here on my blog.
Since my CFW changes the default partition sizes to free up some space in C:\, you will have to use "refurbish" in Phoenix!

Device Setup
To make the firmware safe for hard resets, a script will copy the content for your C:\ from Z:\ at the first boot after flashing/hard resetting.

You will get pop up notifications to inform you about the status.
When the process is done, your device will automatically restart... until that happens, please do not touch your phone!
The whole process takes only a few minutes... so keep calm and let the script work

Personal Configuration
Reinstall your applications, games and data.
I removed a lot of built-in applications, if you are missing something check my "Tools" section.
Installers for everything that was removed are in there and can easily be reinstalled!

*******
Changelog

RM-807 Nokia 808
Custom Firmware
The One Reloaded
113.010.1508

v4.2.0
-default settings changed
-homescreen settings/mods
-unlimited homescreen mod (max. 100)
-first homescreen can be deleted
-Widget arrangement three homescreens
-arrangement for portrait and landscape
-added The One background images
-to "c:\data\_tools\backgrounds" removable
-menu arrangement (matrixmenudata.xml)
-predefined settings for
-screen saver
-display
-profiles
-mod to rename all profile names
-camera
-tv-output
-calls
-bluetooth
-handset and speaker volume
-clock & calendar
-music player
-product improvement
-sw update
-messaging (sms & mms)
-xplore
-nfc

-apps updated/moved
-Nokia Store v3.30.018 (UDA)
-Nokia OTA Updates
-3G Network Compatibility fix
-Application Compatibility fix
-Nokia BigScreen
-WLAN Update
-Telephony Update
-Camera and Gallery Update
-Gallery Sharing Plugins
-Email and Calendar Update
-Nokia VPN Update
-SMS Update
-Messaging Update
-new homescreen widgets
-Phone as Modem functionality
-moved to rofs
-added "Restart" application
-shared by syarmwawa, new icon by me
-SIP VoIP v3.1
-Theme Evolve Qt v3
-by SLAYER33
-winRAR v1.01
-Xplore v1.6
-metro icons by itsmelah
-added screen savers (thanks to M4C351)
-music player
-slide show
-animation

-added new widgets
-slighly renamed widgets
-better readability and looks
-all new widgets modded for rofs2
-new widgets
-Calendar, next Event
-new skin by daubuntu
-contacts, communications
-flip clock
-"white/transparent" by Dima-zh1
-text clock
-"blue" by Syarmwawa
-small analogue clock
-by LOVELAS
-small contact
-by LOVELAS
-anna notifications
-by joe3
-mail, compact
-by Robo3737
-music player, small
-by Robo3737
-clock, small text (red)
-by Robo3737
-calendar, small agenda
-by Robo3737
-Clock, Digital
-FP1 skin restored
-Notifications small
-by Robo3737
-DLNA Server small
-by Robo3737
-Wi-fi small
-by Robo3737
-Clock, Profile
-by Robo3737

-hacked by
-installserver.exe (with log)
-by coderus
-RomPatcher Plus v3.1 FP2 by Il.Socio
-domainsrv for autostart
-added to uda, can be removed
-modded Anna icon
-unknown creator
-integrated patches
-open4all
-c2z4bin
-c repository 4 all
-fmtx unlimited waiting time
-high level volume fix
-more sound in loudspeaker
-FastLockKeyEventLong
-ChangeLayoutSize v.1.9
-Activate Bass
-CRepository4all fix FP2
-MassStorageBrowserChanger
-Remove Hash Check
-remove recoding tone

-browser mods
-resume downloads on browser-restart
-set browser cache to infinite
-set google.com as default homepage
-toplevel domains (ch,com,net,org,de)
-removed all bookmarks
-removed default feeds
-added "The One Mobile Blog" feed
-added "The One Mobile Blog" feed for comments

-music player mods
-music player search E:\Music, F:\Music
-music player heap to 30MB
-increased max. volume
-more supported file formats for harvester
-increased max. volume for speaker
-equalizer mod
-metadata editor
-by coderus/chris_marsh

-voice recorder mod
-720min recording @256kbps, stereo

-sysap 1.4 by iChris701
-special thanks to iChris701 for this special version!
-power button is untouched (no restart on long-press)
-disabled notifications
-fmtx
-power saving
-charger
-browser and network queries
-disabled auto switch for power saving mode
-log saved when sim card changes
-unlimited sms sending retries

-alarm mod 2.0
-alarm tone duration set to 5min
-snooze notifications disabled
-by coderus

-java permission mod
-by coderus

-akncapserver mod
-faster task switcher opening
-save clipboard after reboot
-needs active "SaveClipboardAfterReboot.rmp" patch (rompatcher)
-by iExtraX7

-rename apps in main menu
-by iExtraX7, FP1-Patch by Chris_Marsh

-create subfolders in mainmenu
-by iExtraX7, FP1-Patch by Chris_Marsh

-USB OTG mod by iExtraX7
-disable popups
-power stays on, if device is not supported

-removed description popups in USB menu
-by iChris701

-enabled wifi tethering
-removed restrictions (e.g. joikuspot is working in the usa)

-gprs/wifi connections in log
-by coderus & iExtraX7

-Log Extender FP2 (999 days)
-by iChris701

-disabled active diverts
-by valek_zzz(?)

-"no connection" popup mod
-by tipinaya

-disabled connection popup for widgets

-Eikoctl.dll mod by iChris701
-removes "text copied to clipboard" popup
-removes useless scrollbar in some menues

-reduced QtPopupFader
-by huellif

-disabled profile (offline) queries
-only works in settings-profiles
-by iChris701

-kinetic scrolling improvement
-by ancelad

-faster screen rotation

-send protected files from default filebrowser

-CPU & GPU modded for better Performance and Batterylife

-fixed tactile feedback level 3

-modified swipolicy.ini

-heap size & closing delay modified
-thanks to jibinmobile

-red led (menu button) while charging
-by L0velas

-tacticle feedback in calls
-by ancelad

-calling orientation is portrait only

-black background for keyboard
-by huellif

-show sent date for incoming mms
-default shows received date

-text messages up to 4590 characters
-not automatically converted to mms (default the limit is 1530)
-thanks to freaxs_r_us/nicesoni_ash

-disabled onscreen popups
-for new messages and missed calls

-modded default font
-added symbol support
-added symbols to profile names
-symbols for power button menu

-smileys across all applications
-by iChris701

-"the one" splashscreen
-by shahspik

-theme effects options by omkarkul
-brings back option to enable/disable theme effects in settings
-effects are off by default

-mods in c:\_tools\mods
-mods in this location
-808 User Agent 2.0
-Text under HS-Icons 2.0
-PopUp Modifier 1.0
-ScrollControl 1.0
-mods will be copied from z:\ to c:\ after first boot

-support for custom theme effects
-original effects are used by default!
-original effects are taken from z:\resource\effects
-copy custom effects to "c:\data\_tools\effects\" ("c:\_tools\effects" with default file browser)
-empty folder "effects" created after first boot
-restart your device and they will work!

-support for custom startup animation
-name and place your files on c:\ like this
-c:\_tools\startup\startup.mp3
-c:\_tools\startup\startup.gif
-empty folder "c:\_tools\startup" created after first boot
-removed default startup animation & sound

-removed stuff
-removed language files for english only (CORE/ROFS2/UDA)
-dummy files added by Nokia
-MyNokia is disabled
-no Nokia Account activation at first boot
-fota cache to 0
-excluded some folders from gallery
-apps removed from startup
-phonebook, messaging, calendar, clock, log
-hidden from main menu
-About
-User Guide
-removed preinstalled apps
-default wallpapers
-Nokia Social
-Nokia Music
-Quick Office
-Adobe Reader LE
-F-Secure
-Shazam
-Youtube
-JoikuSpot Light
-Psiloc World Traveler
-Vlingo
-Nokia Store
-Microsoft Apps
-Microsoft Communicator
-ColorizIt
-Silent Film Director
-Nokia Recommends
-CNN
-Bounce Boing Battle
-NFC Tutorials
-Public Transport
-car mode

-cleand up core/rofs2/uda
-removed unnecessary files
-rearragend files
-removed duplicates

-MiniCMD for safe Hard Resets
-UDA content will be copied from Z:\ to C:\
-excluded the files on Z:\ (for UDA) from gallery
-Credits to "Just Fancy" for MiniCMD.exe

-Firmware Partitions
-changed partition sizes for more space in C:\
-do not mix with other firmware files!

*******

Downloads:
Uploaded.to
RM-807 The One Reloaded

Translations
freaxs_r_us is translating my custom firmware for you, if you like his work, don't forget to hit "+1" for him

all languages, translated by freaxs_r_us can be downloaded here:

TheOne 808 v4.2 Translation files

Enjoy the Firmware and share your feedback!

Screenshots from v3.x
for more screenshots follow this link
Screenshots The One Reloaded v3.3.1
The One Reloaded v1.1.0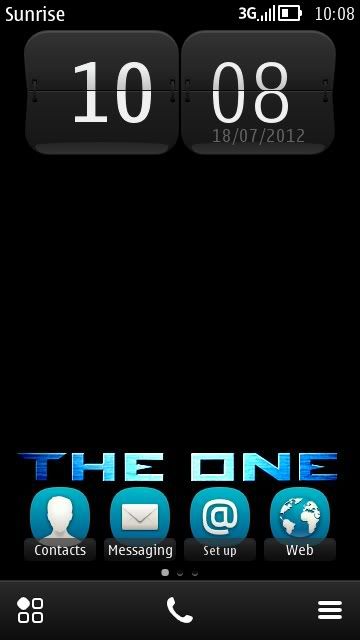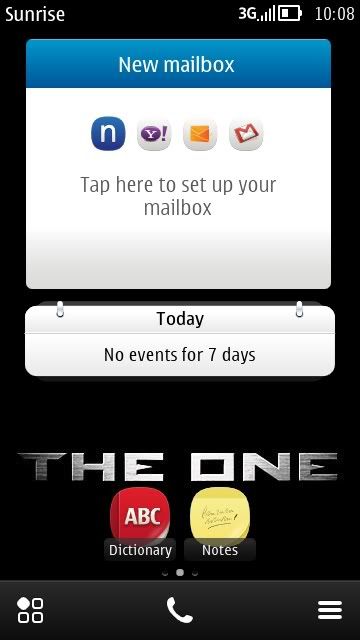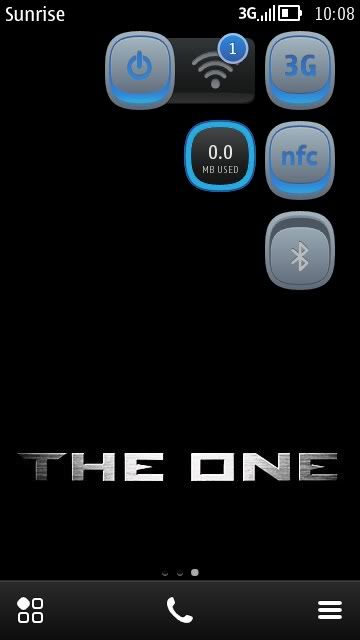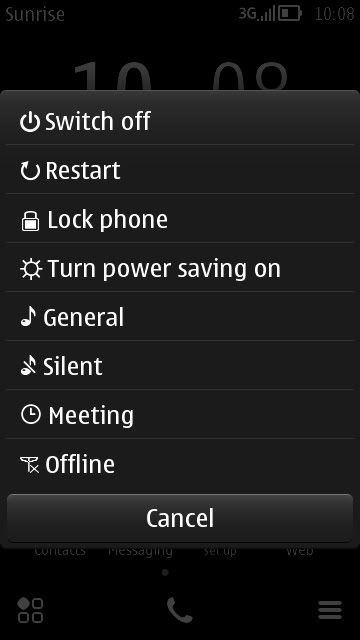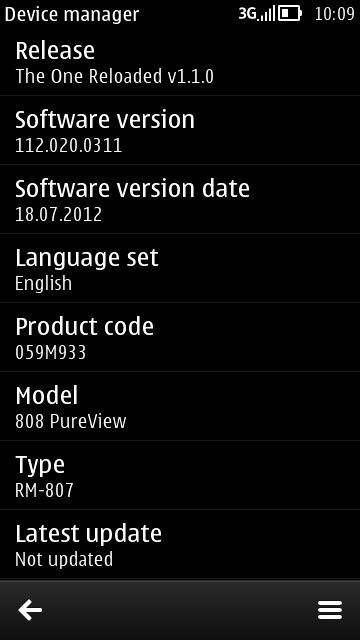 Edit:
-updated topic to v4.2.0
-updated links for mediafire
Thank You... Happy Flashing...